The first thing you may think when you have a plumbing issue is which Montebello plumbing company you should call for plumbing repairs and installations. Fortunately, Daniel Cordova Plumbing services Montebello and the surrounding areas so you can be sure you are getting great value for your plumbing investments. We offer a 100% satisfaction guarantee and the quality of our work is unmatched by any other residential plumbing contractor.
Our courteous and knowledgeable technicians pride themselves on using high-quality materials and top-notch workmanship for all of our services including the following: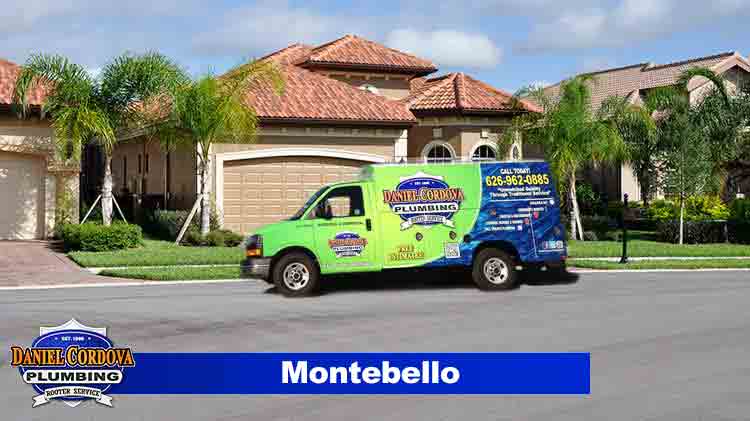 If you're looking to upgrade your conventional water heater with a new, modern, efficient model, we provide tankless water heater installation.
When to Call a Professional for Clogged Drain Repair
Knowing when to call a Montebello plumber for clogged drain repair or drain cleaning can be tricky because your pipes are hidden in your home. However, there are some warning signs that will put you on alert that you're in need of professional drain repair and cleaning. Here are a few signs to look for before calling a professional:
Slow drains mean that your drains are likely clogged.
Bad odors wafting up from your drains are a sign that food or other waste may be trapped in your drains.
If you have multiple drains clogged in your home at the same time, you could have a big drain issue that needs immediate service.
If you notice strange gurgling noises in your drain, you're in need of a drain cleaning.
Frequent clogs could mean that you have a deep clog or that whatever methods you are using to clear your clogs aren't completely effective.
Upgrading Your Water Heater
There are many reasons homeowners decide to upgrade their water heaters to a tankless system. One reason is that tankless water heaters last longer than conventional models – up to 20 years! Another big draw is that tankless water heaters are noticeably more efficient which will save you money on utility costs. Having a tankless water heater helps you save space which is why they are a great option for homeowners looking to free up floor space. Water heaters are also a great choice for those who want hot water on demand! Call us if you're curious and want to learn more about tankless water heaters.
3 Common Plumbing Issues We Handle
When you contact Daniel Cordova Plumbing, you can be sure that no matter what plumbing issue you have, we will be able to help you! Call us if you're experiencing any of these common household plumbing problems:
Clogged or leaking drains
Broken water heater
Burst or leaking sewer or water lines
Don't get tempted to fix these issues on your own. Daniel Cordova Plumbing makes every common plumbing service affordable so that you'll always be able to have repairs or installations done. We pride ourselves on offering you top quality services that will last you a long time and keep your wallet happy!