Discover National Kitchen and Bathroom Month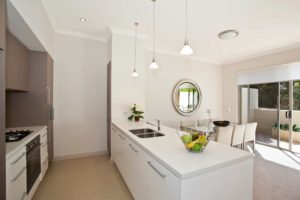 In 1982, the National Kitchen and Bathroom Association declared October to be National Kitchen and Bathroom Month.
This month-long promotion for bathroom and kitchen renovations started as a way to give homeowners the perfect opportunity to transform their homes and add value to their property.
This special month falls in October because it's the perfect time to start a renovation; the kids are back at school and adjusting to their new routine, while the hustle and bustle of the holidays are still safe in the distance.
Nothing is more exciting to a homeowner than a renovation and 2016 has been a great year for new trends, futuristic technology and beautiful fixtures to take your bathroom and kitchen to the next level.
What are the top trends in kitchen renovations?
This year has been all about simplicity. New renovations are combining function and form to create beautiful kitchens with an architectural flair. If you're planning a kitchen renovation, consider some of these top trends for 2016: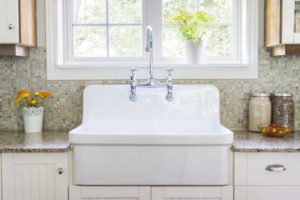 Cast-iron apron sinks: Some would argue that these never went out of style. Today's cast-iron apron sinks come in numerous colors to compliment any style or color scheme.
These large, practical sinks bring a farmhouse sensibility to your kitchen with a modern functionality that will make doing the dishes or rinsing your Thanksgiving turkey a breeze.
Architectural and modernly advanced fixtures: Today's faucets and fixtures come with many features that give them the upper hand over older models. Designed with an architectural sense, they are practical, simple and beautiful to look at. Futuristic details such as 360-degree swivel heads and automation make these fixtures a must-have for any modern bathroom.
Commercial appliances: Commercial ranges, fridges, and ovens have been given an overhaul to fit into a residential lifestyle. These appliances are sturdy, long lasting and provide an industrial look to your kitchen that is sure to impress any guest.
Showers vs. Tubs
Are you a shower person? Do you love taking long, relaxing baths? No one says you need to choose between the two. The latest trends are seeing bathrooms move away from combined shower/bath units to making the two very separate. If your bathroom is only big enough to accommodate one of these units, it's more of a personal decision rather than a trend-based decision.
If you prefer showers, go with the shower. If you prefer baths, go with the tub. Many homeowners will also use multiple bathrooms i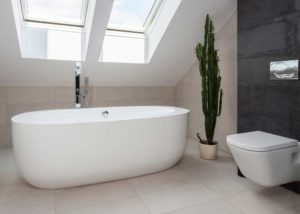 n their home to have different units.
For example, your downstairs bathroom can have a beautiful tub, while your upstairs or en suite bathroom has the shower.
Top Bathroom Trends of 2016
Renovating your bathroom is one of the best ways to add value to your home. In most cases, simply making small changes to the bathroom will give an instant facelift.
If you're looking to completely renovate your bathroom this month, take some of these top bathroom trends into consideration:
Trough sinks
Angular faucets and fixtures
Freestanding tubs
Shower seats
Heated floors and anti-fog mirrors
Steam showers
Open concept vanities and shelving
Avoid Trends with an Expiration Date
Trends are called trends because they go in and out of style. What's popular one year might be unpopular the next. There are many renovation trends in the past that we simply laugh about today. The best way to avoid making a trend mistake is to seriously consider your needs and requirements for the room.
If one trend doesn't work for you, you do not need to invest in it. Make decisions that are right for your family, rather than what's popular and you'll feel happy knowing you invested your renovation fund wisely.
Call Daniel Cordova Plumbing today at (626) 962-0885 to speak with one of our Whittier, CA experts about renovating your bathroom or kitchen this month.